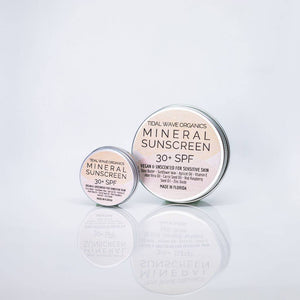 Made with sunflower wax, non-nano zinc oxide and mango butter for a creamy and smooth, water-resistant, unscented vegan sunscreen that is approximately 30 SPF of UVA and UVB protection. It's also reef-safe and cruelty-free! It's simple, healing, light, vegan and non-greasy so you can wear it under make-up everyday and even out your skin tone in the meantime. This is great for all skin types as every ingredient rates low on the comedogenic scale (meaning they won't clog your pores). This is perfect for those with:
- Sensitive or easily irritated skin
- Sensitivities to scent
- Normal, oily, combo skin
- Children under 6 years can use this safely
Made with organic, raw and cold pressed ingredients that are;
- 100% plant and mineral based
- Cruelty-free
- Reef-safe
- Naturally water-resistant
- Non-comedogenic
0.5 oz tin, perfect for travel!


Made in Florida by Tidal Wave Organics.