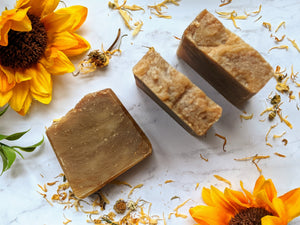 *Temporarily unavailable* This option will return in February 2024. We are in full production mode to stock our shelves for the holidays, so we are unable to fulfill small made to order batches! Thank you ~ Salt & Ash
Choose your scent from the list, and get two pounds (6-8 bars) of package-free soap made just for you! You can select one of our signature scents, or a specialty soap that we don't keep on rotation. 
Bars are cut into 1-inch pieces and range from 4-5 ounces each. We recommend storing your soap in a cool, dark place until ready to use. 
Each loaf is made to order and will ship in 3-5 weeks. Shipping is included. 
Note: if we have recently made a batch of your selected soap, you will receive 7 package- free bars from that batch, not made to order.
Ingredients: Coconut Oil, Olive Oil, Castor Oil, Shea Butter, Cocoa Butter, Hemp Seed Oil
May contain: Organic sunflower oil, Organic canola oil, Fragrance or Essential Oil, Mica, Botanical colorants
*email us for specifics or requests!
These bars are not for resale. Please inquire if you have an interest in private label soap.